How to Transition Your Business Online
Posted on May 26, 2020
With all the big tech companies making the news on working from home transitions and "shifting" online, have you been asking yourself on how you could transition your business online. It starts with researching your customer preferences, evaluate technology solutions and establishing ongoing training and development. Think of this digital-first transition as a process more than a one-time destination. Things are constantly changing digitally. Embracing adaptability and encouraging change within your team are key to not only a successful transition but long-term success.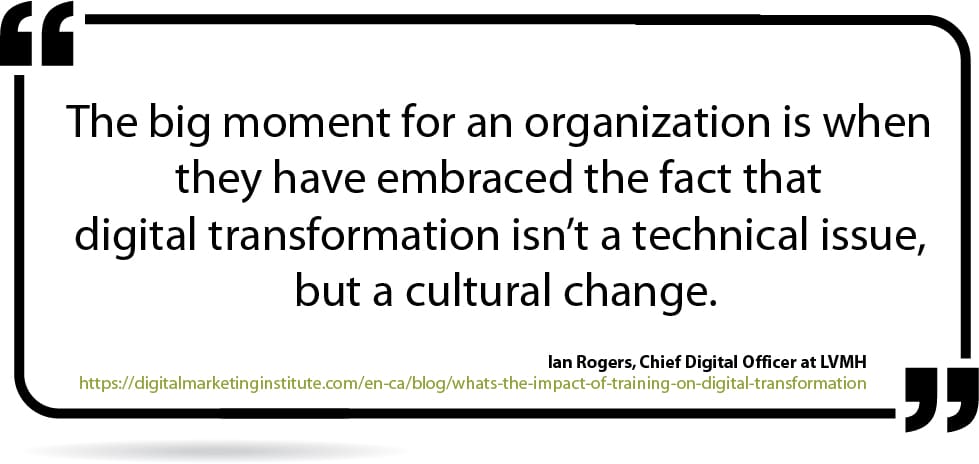 Sounds easy, right?
These may be simple steps but they require constant monitoring to ensure optimal performance and limit employee frustrations dealing with new processes. Let's take a closer look at each stage and how to achieve quick turnaround times.
Researching Customer Preferences
This may be the most important part of evaluating any digital shift happens – what your customers prefer. What does that mean? It means having a fundamental understanding of your customers behaviour and how they interact with your business. You can imagine – a local pub or restaurant that wants to setup online ordering may have entirely different customer preferences compared to a pet groomer. How can you do this? In a number of ways – but here are a few ways to get customer insights:

Past Preferences
Let's stick with the local restaurant example: is there a daily or weekly special that is offered to your customers? Is it the most consumed item on weekends? You can look at these trends and plan your online ordering or curbside pick-up schedules accordingly. Similarly, if you look at the above "Top 5 Ways of Making Consumers Feel Valued" chart – majority of customers prefer offers and perks that are catered individually to them (IE. not general offers, but personalized promotions).
How about having the ability to add their order as a "favourite" on the new ecommerce platform your business is looking to setup? Text updates of when their order will be ready?
Think about what you already may know and combine it with further research initiatives to get a full picture.
Surveys
Not sure how to get feedback? Assuming you have a website an easy and quick way to get research done is to setup survey asking for specific feedback. Surveys can be embeded on websites fairly easily now and offer a great way to hear directly from customers. Better yet – if you have a good email list that you send regular updates to, it may prove useful in getting the input from your loyal customer base as they truly set the standard of needs when it comes to preferred service.
Social Media Polls
Don't have the resources for surveys? No worries! Social media polls are free and easy to setup. Virtually all major social networks offer poll responses and they increase the engagement of your posts by quite a bit. After all – which customer doesn't want to have the ability to provide suggestions or preferences to improve their favourite restaurant (or business they regularly support)? You can check see Slack's (workplace collaboration tool) example of guiding their social media posts:
Hey there — it's time for an afternoon poll. What types of @SlackHQ tweets would you like to see more of?

— Slack (@SlackHQ) April 19, 2018
Existing, 3rd Party Insights
Much like our chart above, there are a number of pre-existing research findings covering a little bit of everything? Need information on digital consumers and technology? eMarkter may be the resource to use. Want to know everything about social media? Hootsuite has lots of information.
Government of Canada also publishes quite a bit of information – if you need something specific and local to your area.
Otherwise a good old Google search and evaluation might give you stats about user behaviour, preferences and other insights that could help make the right choice when transitioning online.
Evaluating Technology Solutions
Although embracing a digital business model is truly a cultural shift, not a technological one – technology still plays a major role in a business' ability to deliver products or services that exceed customer expectations. Regardless of what your business is trying to accomplish – setting up an online store, improving your digital signage, or even making the management of financial records easier – there is a solution available. Below is a graph showing the technologies small-to-medium business are currently using. Is your business in any of those categories?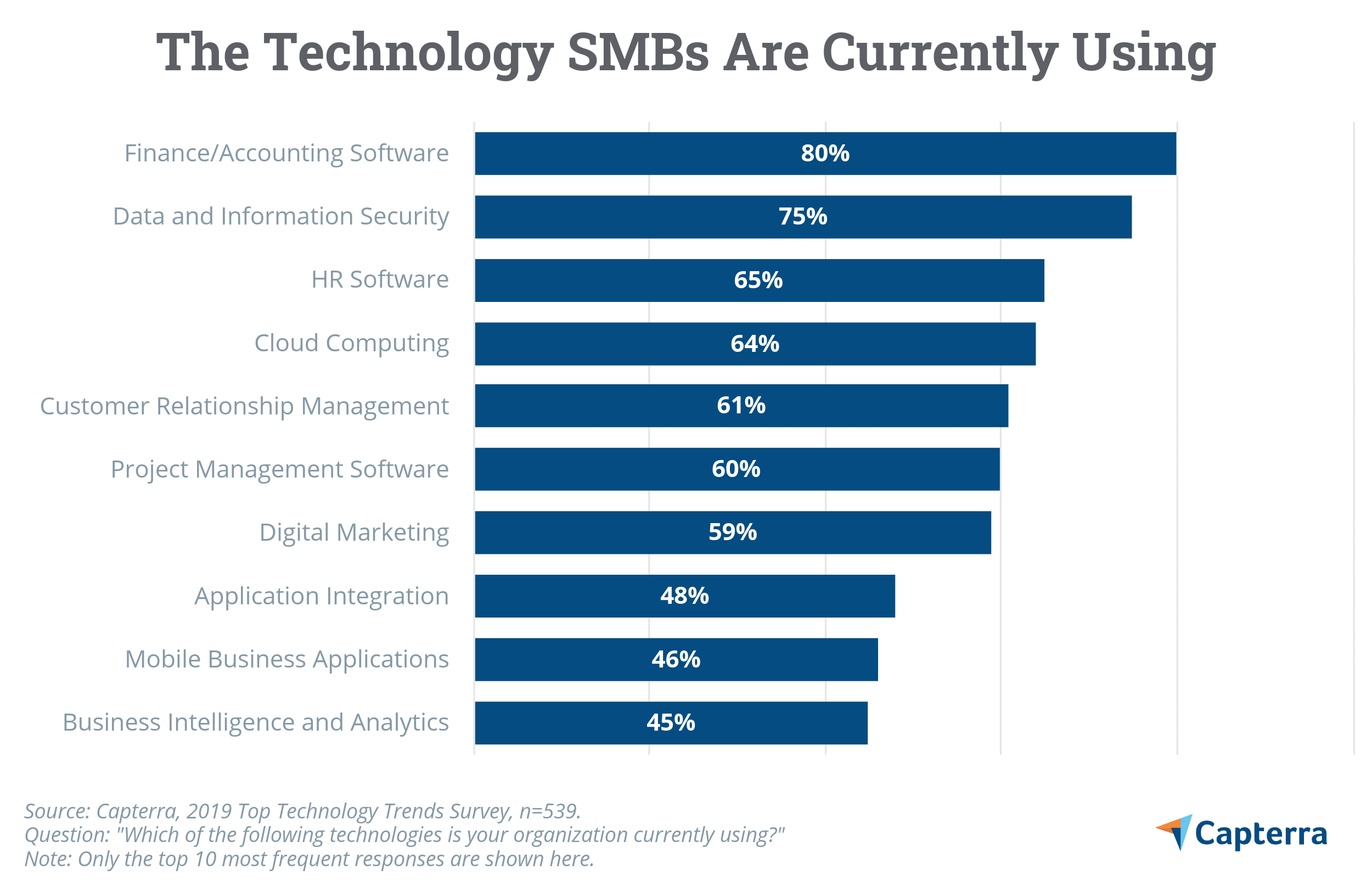 If not you may want to evaluate what your top priorities are. Do you want to retain employees to reduce turnover? Perhaps HR-based software or training might be needed to increase employee satisfaction. Falling behind in order options? Maybe curbside pick ups and online orders aren't out of the question for all sorts of businesses (if COVID has thought us anything).
When you establish your needs, consider the two following things before making any technology commitments:
1) Budget
Can your organization afford it? Not just the initial purchase but any licensing, fees or maintenance plans that come along with the technology. [epq-quote align="align-right"]Put down all of your tech and software expenses on a 3-5 year, monthly expense plan and evaluate if fee structures are feasible for your organization.[/epq-quote]Often times – a single tech solution isn't enough for more demanding needs. Consider all the technology and the entire fee structure for each solution. Put it down on a 3-5 year monthly expense plan and determine if its feasible. Is it going to make things more efficient? Bring in more business? How quick will it pay itself off?
All of these are questions to consider before making a long-term commitment.
2) Integration Capability
Probably the most important aspect of any tech or software that often gets overlooked: integration into other systems or 3rd parties. Are you looking at a new payment provider? Do they support today's extended payment options (Apple Pay, Google Pay, etc)? Looking for an ecommerce platform to enable online orders? Does it connect directly into your email database to send personalized, automated emails based on user preferences?
Integrations are key to the long-term health of your technology make-up. Having tech or software solutions that easily integrate into other platforms allows you to switch to different provides and services without having to re-evaluate all of your technology. Simply customize or setup the integration once and your systems are talking with each other. And when systems are openly talking to each other – the gaps that might slow down your business process are minimized.
Establishing Ongoing Training & Development
Hands up if you've scrambled to get going with a new webstore. How about new point of sales system? Cloud email server?
You can bet I had my hand up for some of those new technology introductions. Think about your employees who have been trained and familiarized with existing tools your business relies on – will they be ready to embark on a learning path without your support? [epq-quote align="align-right"]Think about your employees who have been trained and familiarized with existing tools your business relies on – will they be ready to embark on a learning path without your support?[/epq-quote] How do you make life easier for everyone during new technology/software implementations? As you can see by the stat below, nearly 40% of employees feel anxious anytime new technology is introduced. This does not apply solely to "older" generations who have an unfair label of being unfamiliar with new software tools. It applies to all demographics and introducing too many new tools too quickly can cause quite a interference with your daily processes.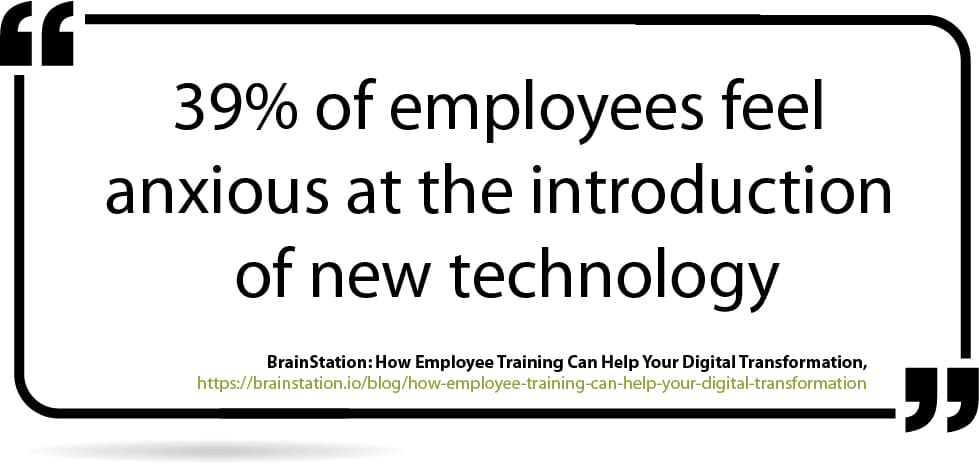 In order to minimize anxiety and inefficiencies during new software / technology introductions, consider proactively building a plan to get everyone within the organization ready beforehand. Build out a training plan, communicate often, get direct feedback from your team and address any concerns or questions that my come up.
By taking this proactive approach you will:
Lead by example
This will show your team that you're willing to put in the time and effort to keep them developed. It's an investment in their skills and a way to help make their workday easier. Think about the amount of time that would have been spent in frustration, endlessly Googling how to use the new tool, compared to the familiarity that will get them running smoothly. This doesn't mean they won't need to keep learning after initial training – it just means that they will be better prepared to integrate new tools into their already established routine. That goes a long way in job satisfaction and ensures that ongoing training is undertaken as the foundational knowledge has been established.
Engage your team
Bringing everyone in the loop before new tools are implemented helps your team prepare. Additionally, if you allow for two-way communication where employees can ask questions and voice their concerns it will help you better prepare to build out a plan that will be suited to your internal culture. [epq-quote align="align-right"]If you allow for two-way communication where employees can ask questions and voice their concerns it will help you better prepare to build out a plan that will be suited to your workplace culture.[/epq-quote] This brings your employees from the "FYI: this is what we're doing so be ready" stage (which most local and small organizations do now) to "We're thinking of switching to this – what do you think?" stage. Why is this important? It incorporates your most valuable assets (employees) in the decisions making process. After all they are the ones doing all the work, they make up the culture of your organization and ultimately they are the front-line when it comes to customer interactions.
Minimize hardship
Eliminating as much anxiety, stress or frustration from your team is key to them not only learning how to use new technology but embracing it as a long-term solution. Far too many times small businesses force new tools on employees and they become too hostile towards using it. Lack of understanding, too time consuming (which cuts into their other important tasks) and too inefficient are usually the push backs that happen. [epq-quote align="align-center"]If you're proactive and give everyone involved an equal opportunity to understand new processes, how those processes make everyone's workday a little bit easier and clearly lay out the long-term benefits associated with new changes – you ensure a successful transition and adaptation for long-term success.[/epq-quote]
I'm curious, how many of us will take the necessary steps early on vs. trying to scramble afterwards and play catch-up? In an ideal world everything goes smoothly. In practice we all know that tight deadlines and quick turnaround times make things challenging. Perhaps owning change and even encouraging it within our workplaces will help us shift towards this ever evolving digital business landscape.
---