Customer Reviews: Why Your Business Needs Them
Posted on July 17, 2018
Directly Improve Bottom Line Results!
Did you know that having customer reviews can increase the amount of money a customer will spend? According to research, up to 31% more spending occurs after customers read excellent reviews: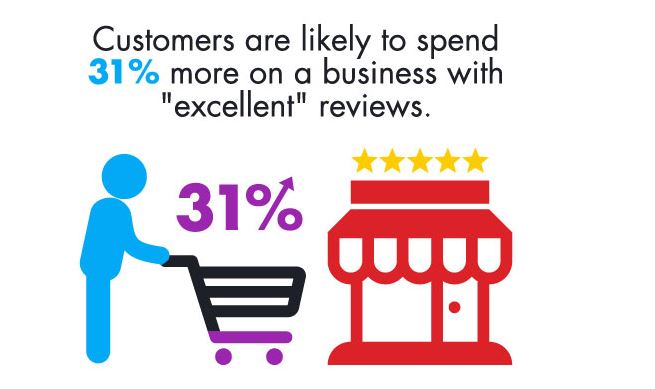 Increasing efforts to reach out to satisfied existing customers to provide a review (even if there is an incentive associated) could go a long way in improving sales. Majority of small businesses already have loyal customers who are providing recommendations to their immediate

social circles. Encouraging them to leave a business review (Google Maps, Social Platforms, Yelp, etc) opens the door to significantly increase the reach of positive brand perception!
People Trust Other People More Than They Trust Companies
Corporations and businesses have built a bad rep when it comes to marketing messages. Often over-promise and under-deliver, use shady tactics, etc. Unfortunately this has been generalized to majority of businesses (regardless of size). There is a lack of trust with customers.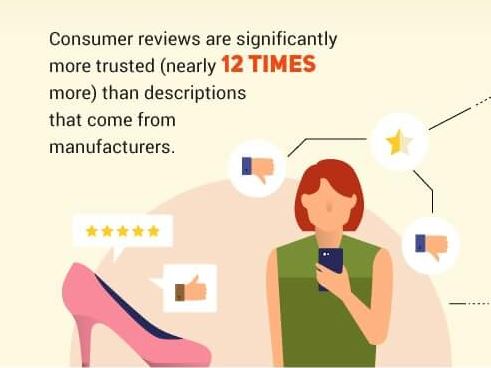 This is why user generated content (UGC) such as reviews can be a HUGE difference maker in building your reputation. As a matter of fact – based on an infographic by WebsiteBuilder, majority of shoppers and customers trust other people's descriptions 12 times more than that of manufacturer information. How crazy is that?!
The other major part of reviews is that they are seen as personal suggestions by other peers. A large part of customers consider reviews to be as trustworthy as receiving a recommendation from their trusted inner circle. Very few organizations can achieve that level of trust!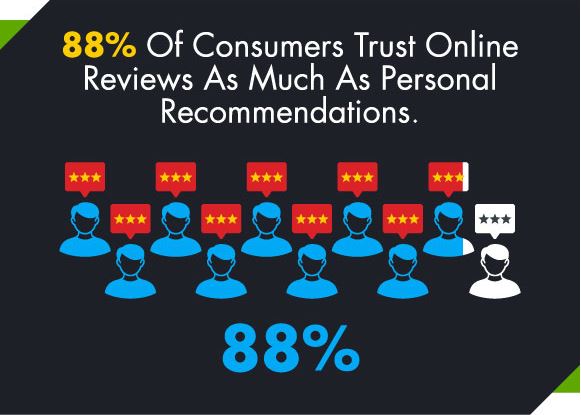 Direct Line of Feedback for Improvement
I know what you're thinking: negative reviews. What if someone comes and leaves a bad review? Isn't happy with our service? Competitor tries to troll? All legitimate concerns.
First and foremost, do not be intimidated or discouraged by negative reviews. They offer a platform for two things:
For the customer to directly voice their negative or unfavourable experience. This allows you and your business to be aware of the issue instead of being in the dark (you can't fix what you don't know is a problem)
Allows your organization to improve it's shortcomings. If there truly is a reoccurring negative comment regarding your service, product or facilities – perhaps it's time to change something? Keep an open mind as customers usually provide great feedback as they are the ones using products/services!
Assuming your business responds in a timely, helpful manner there are many benefits – including not only improving your organization but improving sales and converting negative reviews into positive ones!

Two-Way Conversations
I mention competitor troll reviews in my point above – I have a personal example of how a residential contractor I researched for a home fix-up responded to a "troll review". This is the business owner responding to a competitor who attempted to undermine their overall reviews and online reputation. See below: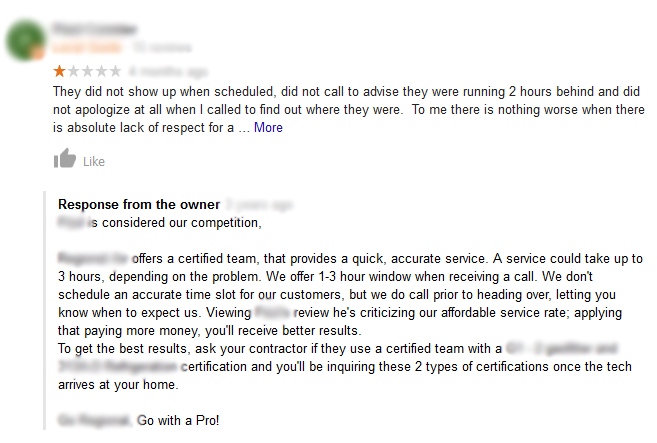 A few things stood out to me (and as a result, gave me confidence to go with their services):
there is someone who cares enough to respond to online reviews (even if they are a small, locally owned company)
responds to direct criticism with factual rebuttals (don't schedule time slots but call ahead, have 2 important certifications to do job properly)
encourages customers to ask about certifications and job details, instead of just self-boasting about their own certifications
indicates that they are not perfect (service takes time and a general time-frame instead of exact booking slot)
Your business needs to have similar level responses. Majority (if not all) review platforms allow for owners or company representatives to provide a response for each individual review. Keep in mind that responding to positive reviews is highly recommended as well – acknowledge positive feedback, it shows your loyal customers that you are listening to them!
Making time to regularly monitor customer feedback and taking time to respond has powerful implications on your business. Including the ultimate goal: generating sales and revenue.
---